7th and 8th Graders, see the following letter about the Governor's Stem Institute Program.
https://5il.co/pu4i

School Excuses: School excuses need to be dropped off in the main office first thing in the morning on the day students arrive back to school from being absent. There is a box labeled School Excuses. Bus notes are also dropped off in the main office.

Please see this letter for GWMS parents regarding helpful strategies while students are remote learning.
https://5il.co/pcjp

Please remember that GWMS does not open the doors for students until 7:50 AM. We do not want our students standing in the cold, and teachers do not arrive until that time. Thank you for your help with this.

January 29th, 2019 will be a remote learning day for students. Students do not report to school. This is due to the vaccination of staff members.

PUTNAM COUNTY SCHOOLS COVID-19 CASE CONFIRMATION On January 22, 2021, Putnam County Schools was notified that an individual at George Washington Middle School has tested positive for COVID-19. This individual was last in school attendance on Thursday, January 21, 2021. The individual testing positive is not permitted to return to school until cleared by the Putnam County Health Department (PCHD). In accordance with privacy laws, information specific to these cases will not be released publicly; however, details are being made available to keep the community informed of the transmission of COVID-19 locally. Putnam County Schools is working closely with the PCHD. The PCHO investigates each positive COVI0-19 case to identify and notify those known to be in close contact with a confirmed positive individual. As a result, 20 individuals have been asked to quarantine at this time. PCS continues to follow the guidelines for COVID-19 Outbreaks in Schools as outlined by the West Virginia Department of Health and Human Resources (WV DHHR) such as additional cleaning protocols. For more information about COVID-19 and to view the WV DHHR's guidelines, please visit
www.coronavirus.wv.gov
. To prevent the spread of COVID-19, everyone is urged to follow best health practices as issued by the Governor's Executive Orders and outlined by the WV DHHR and the West Virginia Department of Education (WVDE) guidance. This includes, but is not limited to, properly wearing face coverings, practicing social distancing, properly and frequently washing hands, and cleaning regularly. For more information about COVID-19, please visit the Center for Disease Control and Prevention (CDC) website at
www.cdc.gov/coronavirus
. For details about the WVDE and WV DHHR guidance documents, visit
https://wvde.us/COVID19
. The safety and well-being of our students and staff is always our top priority at Putnam County Schools. We will continue to work jointly with our local health officials to monitor this situation.

We are excited to see the return of In-Person students on Tuesday January 19. Please know that we are doing our best to create a safe environment for all staff and students. Virtual students will maintain their Virtual schedule. There will be no changes to those who have continued to remain in the Virtual Instructional model. The January 19th return date, only refers to In-Person students. Parents of virtual students please contact the school if you are wanting to have 5 day boxed meals. In-Person students make sure to bring the following items: laptop fully charged, water bottles, gym clothes, band instruments, library books, novels from language class, etc. Tutoring for In-Person students will begin next week. In-Person tutoring runs Tuesday for 6th grade, Wednesday for 7th grade and Thursday for 8th grade. All days are after school until 5:30. We have bus transportation and snacks. Virtual tutoring is available on each of those days for all students from 3:30-5:30. For those students struggling academically we are making a big push as we move toward the second semester. Please reach out to the school regarding any concerns. Please remember that Monday, January 18th there is no school as we celebrate Martin Luther King Jr's birthday.

Putnam County Schools has established an Emotional Support Phone Line for families and students in need of emotional support during the COVID-19 pandemic. The Emotional Support Phone Line number is (304) 586-4947 or extension 1960. Feeling isolated, overwhelmed, or alone? Need to talk? Do you or does your family need emotional support during the COVID 19 pandemic? The Putnam County Schools Emotional Support Phone Line provides resource referrals for students and families experiencing emotional distress. Student support staff are available to talk, offer resources, and provide referrals to other local agencies if needed Monday thru Friday 10am to 6pm. If you are experiencing an emergency crisis, please contact the West Virginia Children's Crisis Line at 1-800-HELP4WV (1-800-435-7498) or call 911 immediately. West Virginia Children's Crisis can also be reached on their website:
https://wwwhelp4wv.com/ccl
.

Congratulations to Cole Whittington for winning this year's Spelling Bee!

FREE MEALS AVAILABLE FOR ALL PCS STUDENTS: This meal service is free of charge and available for ALL students, whether or not enrolled in the meal benefit program. Therefore, we encourage all families to take advantage of this opportunity. Daily pick-up times for meals are from 11:00 am - 12:30 pm at each school. Families will pick-up meals at their students' home school location, curbside while remaining in the vehicle. If transportation is a problem, families may contact their home school to request meal delivery assistance.

Happy Thanksgiving! We hope everyone has a great break. As a reminder, there will be no class meetings or new assignments required during the break.

CONGRATULATIONS, to our volleyball team on becoming Back to Back Conference Champions! On Saturday they defeated Madison for the Black Diamond Conference Championship! Way to go girls!

Virtual and In person learning: The Window to switch from Virtual to In Person Learning or In Person to Virtual is open from October 19th - October 23rd. The start date for the new placement will begin on Wednesday Nov. 4th. Requests made outside of this window may not be guaranteed. To change placement call the school and ask to speak to our counselor Mrs. Gatens. Device Insurance: The enrollment period for device insurance expires on October 30, 2020. A form is attached on our Schoology page. Winter Sports: Girls basketball officially begins Nov. 2nd and Boys basketball and Wrestling begins Nov. 9th. In order to participate all paperwork must be completed and turned in before the first day of practice. Our school website and facebook has information on the appropriate forms. Sports packets can also be picked up outside the main office. Upcoming Games: We are currently Yellow for all sports events which means we can have households and grandparents attend our football games. Volleyball games can only have parents attend because of limited seating capacity. Tickets are presold by our coaches.

Shirts and masks are available for sale in the main office. Shirts are $12 dollars up to an extra large and $15 for 2XL and up. Masks are $10 and neck buffs are $15.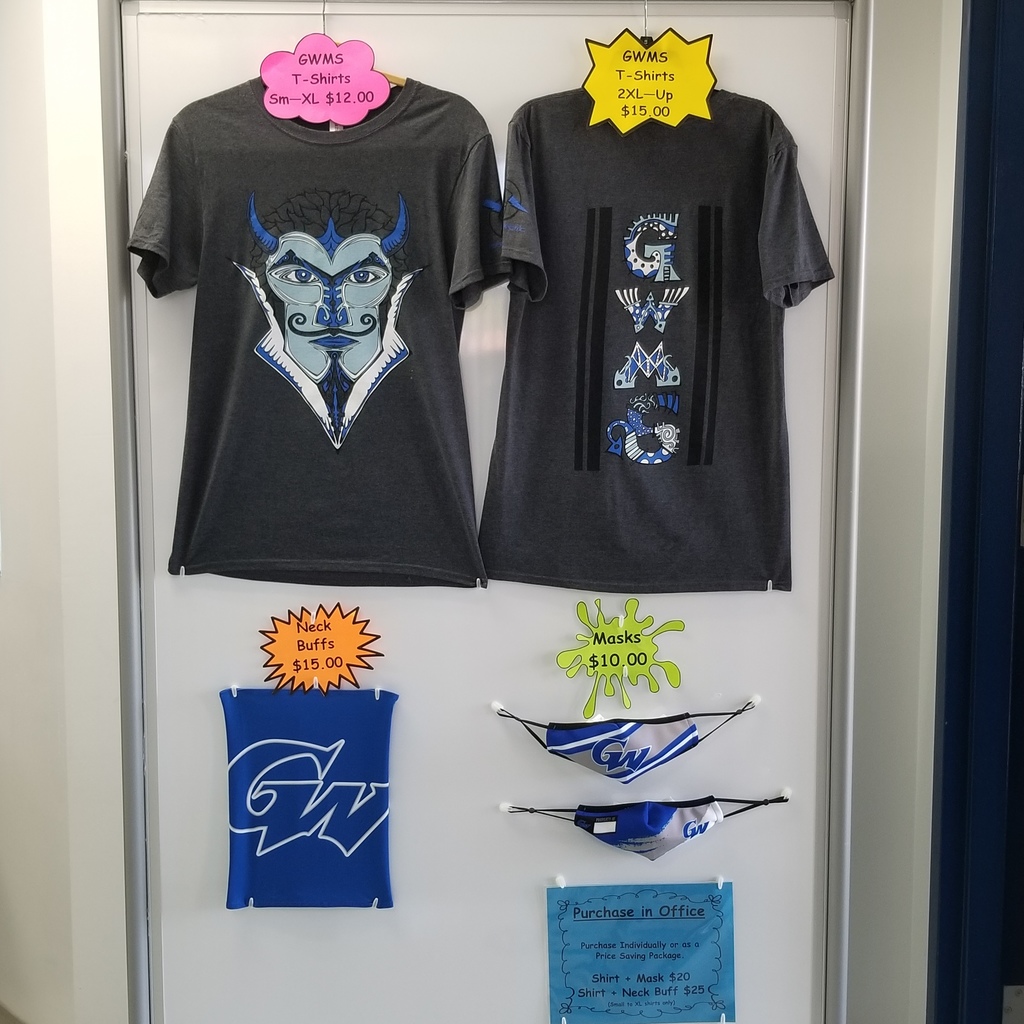 To parents of all 7th grade students at GWMS: State law requires additional immunizations for all students beginning 7th grade. The vaccines required are a booster dose of Tdap ( which is the tetanus, pertussis and diphtheria vaccine) and a vaccine for meningitis or the meningococcal vaccine. Please send these to our school nurse, Jayne Duncan as soon as possible. You may fax to our school at 304-586-3037 or email to
jwduncan@k12.wv.us
Thank you for your cooperation in this matter.


George Washington School's revised plan for Virtual Student Laptop Pickup. This plan is for virtual students only. Students in the 5 day model will pick up their devices upon arriving to school. This plan can be found under news and at the following website.
https://gwms.putnamschools.com/article/297064?org=gwms

We are proud to announce, the unique art projects for our school have been completed. Two local artists have created some amazing pieces that highlight our wonderful state and incredible school community. A big thank you to the artists J.P. Owens and Jeff Pierson, a long with community project coordinator John Arthur.