CONGRATULATIONS, to our volleyball team on becoming Back to Back Conference Champions! On Saturday they defeated Madison for the Black Diamond Conference Championship! Way to go girls!

Virtual and In person learning: The Window to switch from Virtual to In Person Learning or In Person to Virtual is open from October 19th - October 23rd. The start date for the new placement will begin on Wednesday Nov. 4th. Requests made outside of this window may not be guaranteed. To change placement call the school and ask to speak to our counselor Mrs. Gatens. Device Insurance: The enrollment period for device insurance expires on October 30, 2020. A form is attached on our Schoology page. Winter Sports: Girls basketball officially begins Nov. 2nd and Boys basketball and Wrestling begins Nov. 9th. In order to participate all paperwork must be completed and turned in before the first day of practice. Our school website and facebook has information on the appropriate forms. Sports packets can also be picked up outside the main office. Upcoming Games: We are currently Yellow for all sports events which means we can have households and grandparents attend our football games. Volleyball games can only have parents attend because of limited seating capacity. Tickets are presold by our coaches.

Shirts and masks are available for sale in the main office. Shirts are $12 dollars up to an extra large and $15 for 2XL and up. Masks are $10 and neck buffs are $15.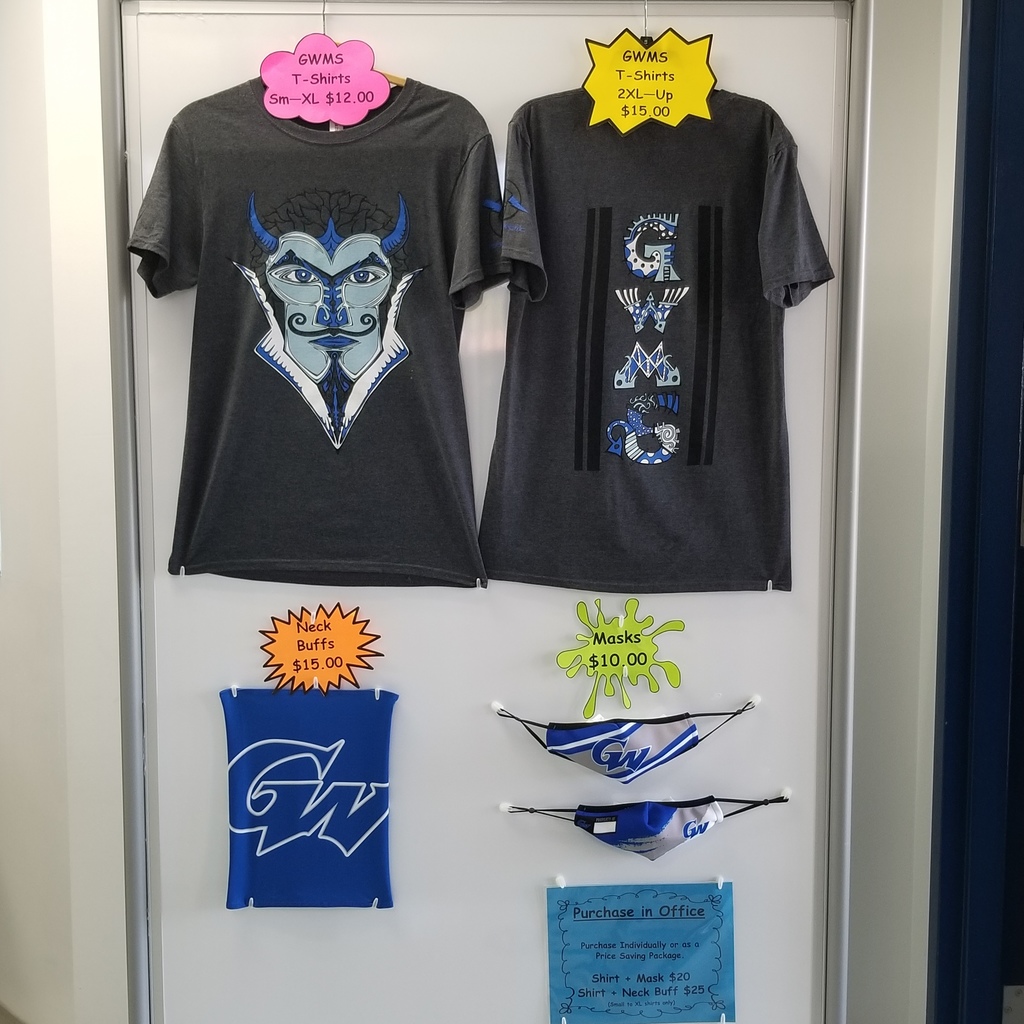 To parents of all 7th grade students at GWMS: State law requires additional immunizations for all students beginning 7th grade. The vaccines required are a booster dose of Tdap ( which is the tetanus, pertussis and diphtheria vaccine) and a vaccine for meningitis or the meningococcal vaccine. Please send these to our school nurse, Jayne Duncan as soon as possible. You may fax to our school at 304-586-3037 or email to
jwduncan@k12.wv.us
Thank you for your cooperation in this matter.


George Washington School's revised plan for Virtual Student Laptop Pickup. This plan is for virtual students only. Students in the 5 day model will pick up their devices upon arriving to school. This plan can be found under news and at the following website.
https://gwms.putnamschools.com/article/297064?org=gwms

We are proud to announce, the unique art projects for our school have been completed. Two local artists have created some amazing pieces that highlight our wonderful state and incredible school community. A big thank you to the artists J.P. Owens and Jeff Pierson, a long with community project coordinator John Arthur.